On November 10, 2019, the 40th anniversary celebration of NDT was held in Yifu Building of Nanchang Hangkong University. Chinese mechanical engineering society NDT branch yong-chang xu, vice executive director of the chief expert of China aviation industry, Air China in the Beijing institute of aviation materials TaoChun tiger researcher, weapon institute chief engineer NiPeiJun materials science researcher, Han Yan professor at the university of north central pay HangJun civil aviation NDT committee secretary general, director of the institute of Shanghai material Jiang Jiansheng, Air China in hair guang-ping guo Beijing aviation materials research institute researcher, pre-kindergartners professor and professor Liu Fenglin, chongqing university, Beijing university of aeronautics and astronautics professor Yang Min, tsinghua university professor XiaoYongShun, general electric air hole every piano, Ph.D., China, Dr Yuan li-hong liang, Representatives of retired teachers from NDT major of Nanchang Hangkong University, teachers from brother colleges, alumni representatives and guests from friendly enterprises and institutions were invited to attend the conference. The conference was presided over by Lu Chao, vice president of NDT Branch of China Mechanical Engineering Society, vice president of Shangrao Normal University and professor of Nanchang Hangkong University.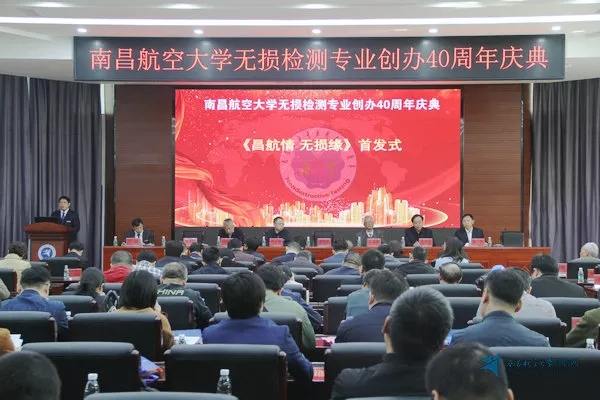 The 40th anniversary celebration of NDT was held in Yifu building of Nanchang Hangkong University
At the beginning of the meeting, the person in charge of the College of Testing and Optoelectronic Engineering of Nanchang Hanghang University delivered a speech on behalf of the university, expressing heartfelt thanks to the university leaders, old teachers, enterprises and alumni who have been supporting the development of NDT for a long time. We hope that all colleagues will continue to pay attention to and support the construction and development of NDT.
Vice executive director of the Chinese mechanical engineering society NDT branch yong-chang xu the 40th anniversary of the creation for nondestructive testing of nanchang aviation university said congratulations, emphasized the nanchang aviation university nondestructive testing has been hailed as a nondestructive testing industry "the huangpu military academy", since established professional, alumni up to more than 5000 people, for our country's aerospace, aviation, machinery, nuclear industry, railway, shipbuilding, oil, special equipment and other industries transport a large number of nondestructive testing engineering and technical personnel, for national defense modernization and economic construction in China have made great contribution. Xu Yongchang spoke highly of the great achievements made in personnel training, scientific research and technology research and development of NDT major of Nanchang Hangkong University, and wished NDT major, which is the brand of Nanchang Hangkong University, to do better and better.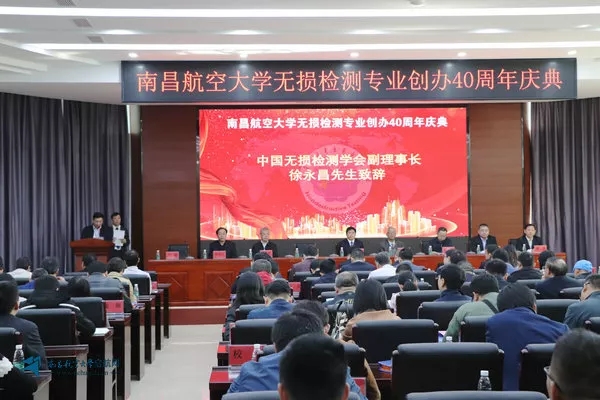 Chinese mechanical engineering society nondestructive testing branch executive vice president Xu Yongchang speech
During the event, Professor Ren Jilin, a nondestructive testing expert from Nanchang Hangyang University and the winner of the State Council Special Allowance, and other representatives of teachers and students made speeches successively, and held the launch ceremony of the book "Changhang Slossless" written by Professor Ren Jilin.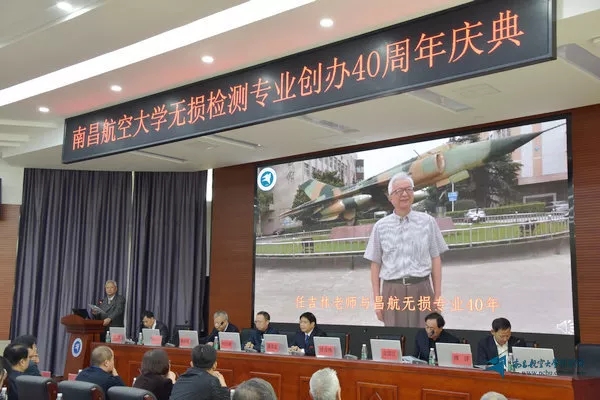 Non-destructive testing expert, the State Council subsidy winner Professor Ren Jilin "Changhang situation non-destructive" first ceremony
Nanchang aviation university separately and shandong ruixiang mould Co., Ltd., Guangdong Goworld Co., Ltd. Branch, shantou institute of ultrasonic ultrasonic instrument Co., Ltd., ein Aztec detection technology (Shanghai) Co., Ltd., wuhan zhongke innovation technology Co., Ltd and jinyun gram force testing equipment Co., Ltd. Signed a practice base protocol, professional scholarship and industry-university-institute cooperation agreement, the nondestructive testing alumni seminar.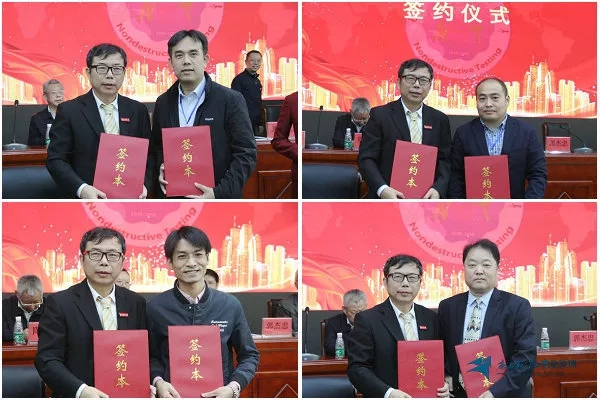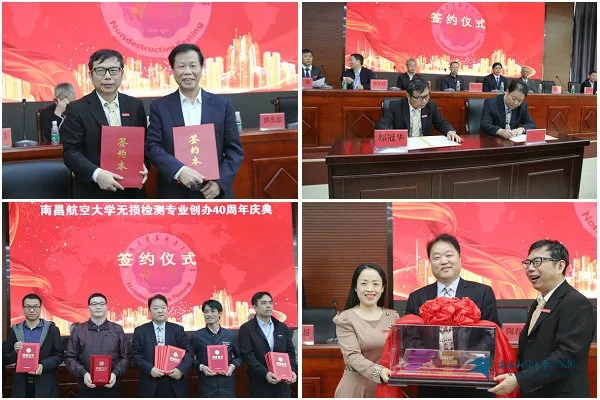 Nanchang Hangkong University signed internship base agreement, professional scholarship agreement and industry-university-research cooperation agreement with six enterprises
Nanchang aviation university party secretary Guo Jiezhong in the opening ceremony and book chang air feeling nondestructive edge ceremony speech pointed out that 40 years, nanchang aviation university nondestructive testing by a generation of "condition" tenacious struggle and hard work, has experienced from scratch, from weak to strong, hard and glorious history. He fully affirmed the remarkable achievements and outstanding influence of NDT in the industry, and highly praised the thousands of NDT alumni from home and abroad for their hard work in their respective industries, making contributions to the nation and winning honors for their Alma mater. Guo Jiezhong "condition" is to continue to uphold the principle of "six" (that is, a clear professional orientation, a clear idea of running a school and a quality team of excellent teachers, a set of meet the requirements of the professional teaching methods, an era following the concept of innovation, a bold research group), stick to the service state of beginner's mind, establish service defense, aviation school localization, inherited the good tradition of professional and senior, continuous innovation, unremitting struggle, make nondestructive testing professional this luminous "chang navigation business card" more colorful.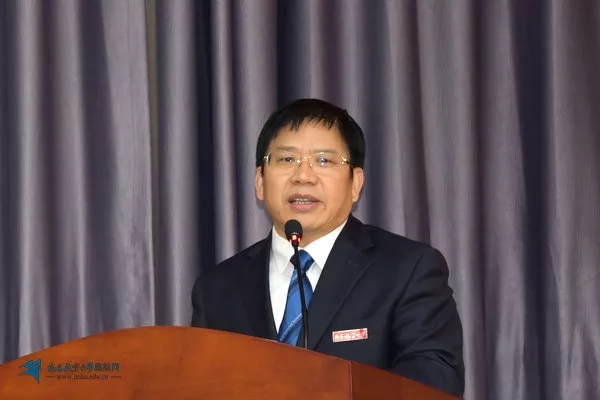 Nanchang aviation university party secretary Guo Jiezhong speech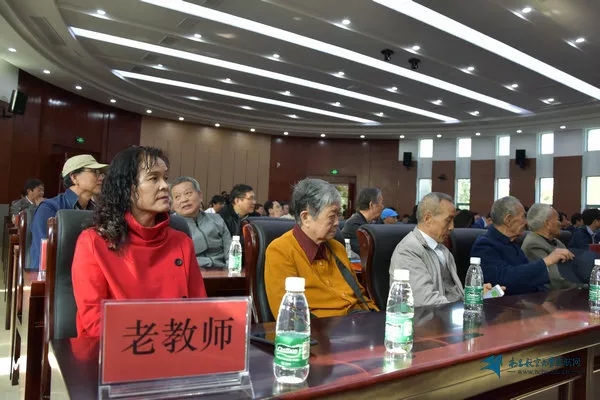 Retired old teachers of Nanchang Hangkong University were invited to attend the ceremony

Forty years, comb wind mu rain;
Forty years, spring and autumn are fruitful.
The successful holding of this celebration not only shows the continuous development and growth of NDT, but also demonstrates the determination and confidence of NDT teachers, students and alumni. Taking the 40th anniversary celebration as an opportunity, the NDT major of Nanchang Hangkong University will stand at a new starting point, meet new challenges and realize new changes!